Barbara Thompson's music career started as a teenager at the Royal College of Music in London in the 1960s, where she studied clarinet, piano, flute and composition.
Taken to a Duke Ellington, concert she became entranced by the saxophone and after meeting her future husband, drummer Jon Hiseman, in 1964, she rapidly became involved in the Jazz scene, absorbing the talents of the Miles Davis group, Roland Kirk, John Coltrane et al.
The key to Jazz performance is improvisation and Barbara realised that with her natural 'ear' she had been 'making things up' since she was a child. As she started performing in Jazz clubs, she felt compelled to compose her own pieces - despite opposition from local Jazz musicians, who were often more comfortable playing 'standards'...
In the mid 1970s Barbara formed her first group, Jubiaba, and later Barbara Thompson's Paraphernalia - and went on to record more than 15 albums with the band, playing extensive tours across Europe roughly every 2 years until 2005. In the late 1990s Barbara was diagnosed with Parkinson's Disease and, as she was forced to cut down on her live appearances, she concentrated more and more on her composing. The result is much of the work available on this site.
Finding the music of Paraphernailia increasingly difficult to get her fingers around, the final outing for the band was a trip to Japan in late 2008.
Barbara also played on the early Colosseum albums before joining the reunion band upon the death of Dick Heckstall-Smith in 2004. Several times during the next decade this band had to come off the road because Barbara's PD caught up with her, but each time she was introduced to a new medication (after lengthy battles with the UK's NHS) and Colosseum was able to tour again. Finally, unable to delay the inevitable, on the 28th February 2015, Colosseum, and Barbara played their farewell concert.
Barbara has appeared as featured musician on more than 100 albums, is a founder member of the United Jazz & Rock Ensemble - 'The Band of Bandleaders' - and has worked with a huge variety of artists from Andrew Lloyd Webber to Manfred Mann. She has composed extensively for television - including being the composer and soloist for the theme music to the hit series 'A Touch Of Frost'.
In the early 1980s Barbara was commissioned by BBC Radio 3 to write a series of pieces and she chose to compose modern classical works which re-awakened her interest in classical music, both as a performer and more importantly as a composer.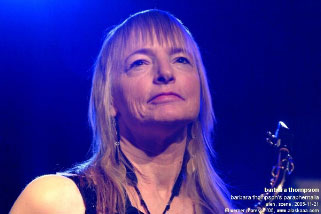 At present, the downloads on this site are largely representative of her recent contempory classical work. Scores and parts related to earlier works will be posted as they become available. It is hoped to include her more popular Jazz compositions as time permits.
In 1996, Barbara was awarded the MBE for Services to Music. For a more extensive biography, visit www.temple-music.com.