BARBARA THOMPSON MBE
It is with great pleasure that we announce the release of LIVE AT THE BBC, a mammoth FOURTEEN CD box set,  available on Repertoire Records alongside her much-anticipated autobiography, published by Jazz in Britain. More details below.
LIVE AT THE BBC
This lavish set includes material ranging from a live concert by the New Jazz Orchestra, introduced by Humphrey Lyttelton, in February 1969, to a set by Paraphernalia, featuring Barbara's late husband Jon Hiseman (drummer with The Graham Bond Organisation and founder-member of Colosseum) and keyboard player Peter Lemer, dating from June, 1990.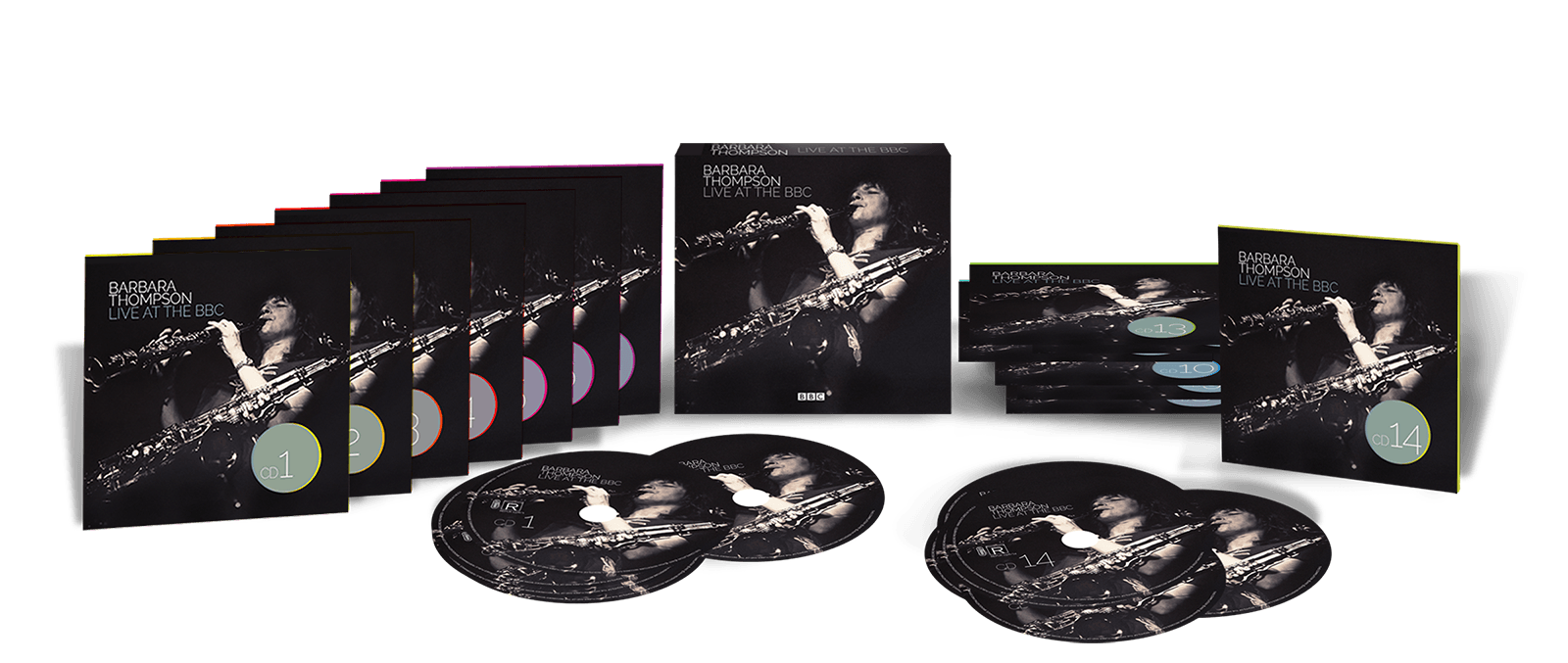 The set contains such rarities as a set of compositions by Mike Taylor, broadcast in 1969 as a tribute following his then-recent death; Improvisations for Octet and Strings (1970); Five Movements for Jazz Ensemble (1971), conducted by Neil Ardley and introduced by Ian Carr; several broadcasts from the mid-1970s by Jubiaba; and many sets by Paraphernalia, in its various forms including a complete broadcast live from Holland Park, mastered to the highest level, with extensive liner notes by celebrated jazz critic, broadcaster and saxophonist Dave Gelly MBE.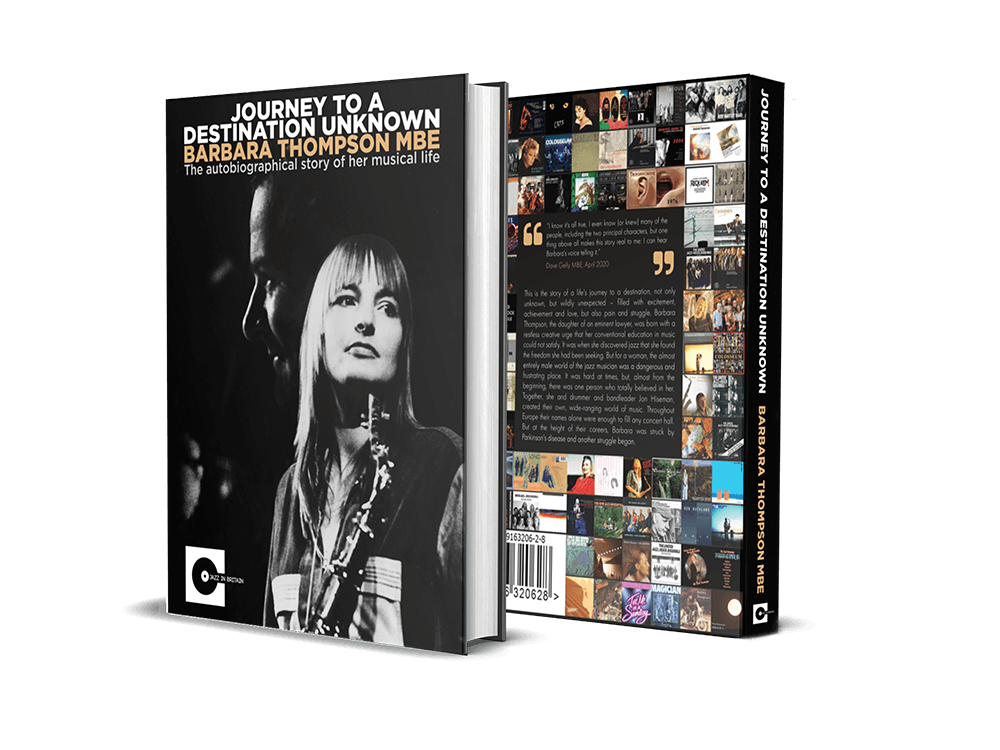 The release of LIVE AT THE BBC ushers in a particularly active period for Barbara Thompson; not only has her much-anticipated autobiography been published via Jazz In Britain, but there is also a new album due for release in 2021 featuring the remaining able players of Paraphernalia and the National Youth Jazz Orchestra (NYJO)  – here, in Barbara's own words, is a brief outline of what to expect: "The 10-track album of my compositions will feature up-and-coming musicians such as Tom Ridout, finalist in the BBC Young Musician of the Year 2016 Jazz Award, on sax and his sister, flugelhorn player Alexandra Ridout, who won the jazz award for BBC Young Musician of the Year in 2016. They perform among other fantastic young players. My daughter Ana will be singing In Memory, my piece adapted from Love Songs in Age for Paraphernalia, alongside Colosseum's Safe as Houses, which Jon and I co-wrote. I'm delighted that Peter's son, the exceptionally talented Ru Lemer, was able to be involved as producer and sound engineer, making this truly a family affair."
JOURNEY TO A DESTINATION UNKNOWN
The autobiographical story of her musical life
"I know it's all true, I even know (or knew) many of the people, including the two principal characters, but one thing above all makes this story real to me: I can hear Barbara's voice telling it."
This is the story of a life's journey to a destination, not only unknown, but wildly unexpected – filled with excitement, achievement and love, but also pain and struggle. Barbara Thompson, the daughter of an eminent lawyer, was born with a restless creative urge that her conventional education in music could not satisfy. It was when she discovered jazz that she found the freedom she had been seeking. But for a woman, the almost entirely male world of the jazz musician was a dangerous and frustrating place. It was hard at times, but, almost from the beginning, there was one person who totally believed in her. Together, she and drummer and bandleader Jon Hiseman, created their own, wide-ranging world of music. Throughout Europe their names alone were enough to fill any concert hall. But at the height of their careers, Barbara was struck by Parkinson's disease and another struggle began.
Dave Gelly MBE
"…this music never seems only to appeal to the intellect but is always sincere and aims at the heart…"
"Barbara Thompson has set a standard that only she can live up to."
"Barbara Thompson writes and performs for the saxophone like no other. With love and unwavering respect, she cherishes the instrument when needed, challenges and pushes it beyond boundaries and shows us that in the right hands, the saxophone really is truly magnificent."
"Barbara Thompson is not only a tenor sax specialist; she also has one of the strongest sounds around."
"Barbara Thompson's Paraphernalia…one of the most popular touring bands in Britain, their unique sound has been lauded in the music press. Jazz Warrior Barbara's brilliant performances on saxophone and flute, together with Jon Hiseman's driving percussion and drumming has gained their own jazz cult following."
"Her solo power had strong men spilling their beer as they staggered to their feet to cheer. Indeed one particular song featured some of the finest tenor sax heard in a long time. Her tenor veered between a Getzian beauty and a King Curtis-style funkiness that earned her a standing ovation…"