BULLETPROOF
Reviews have been fantastic for the album BULLETPROOF released in 2021 – details below.
"What a lovingly constructed recording. A great tribute to one of the finest drummers ever by one of the best sax players ever – and her family. It matters not a jot that Barbara doesn't actually play on the album because her creativity runs through the music which is a fitting tribute to two musicians who contributed so valuably to Jazz in general."
Mark Ringwood, Radio Broadcaster
ABOUT BULLETPROOF
Nearly 5 decades after the formation of the legendary British jazz-rock band Barbara Thompson's Paraphernalia; the group return in force with a new studio album 'Bulletproof'. Featuring 10 original compositions from the virtuoso saxophonist, composer and bandleader Barbara Thompson MBE, and a mixed line-up of classic members and young talent; the album is packed with musical fervour and explosive improvisations.
Due to her struggle with Parkinson's Disease; this is the first Paraphernalia album that does not feature Barbara herself on saxophone. The remaining able members of the band – Pete Lemer on keyboards, Billy Thompson on violin, and Dave 'Taif' Ball on bass – join forces with 17 phenomenal players from the National Youth Jazz Orchestra, to bring an exuberant twist to the classic tracks under the expert leadership of Mark Armstrong.
Included in the line-up are up-and-coming musicians recently featured in BBC's Young Jazz Musician of the Year, such as Tom Ridout (finalist) on sax, his sister Alexandra Ridout (winner) on flugelhorn, and Tom Smith (finalist) also on sax. Barbara and Jon's daughter, Ana Gracey, sings on In Memory, a piece adapted from Barbara's composition Love Songs in Age originally commissioned for the BBC Singers, and also an exciting new rendition of Colosseum's Safe as Houses. Bulletproof, Safe As Houses, Breathless and Little Annie-Ooh are brand new arrangements which were debuted at a 2019 tribute concert to Jon Hiseman at the Shepherd's Bush Empire, London.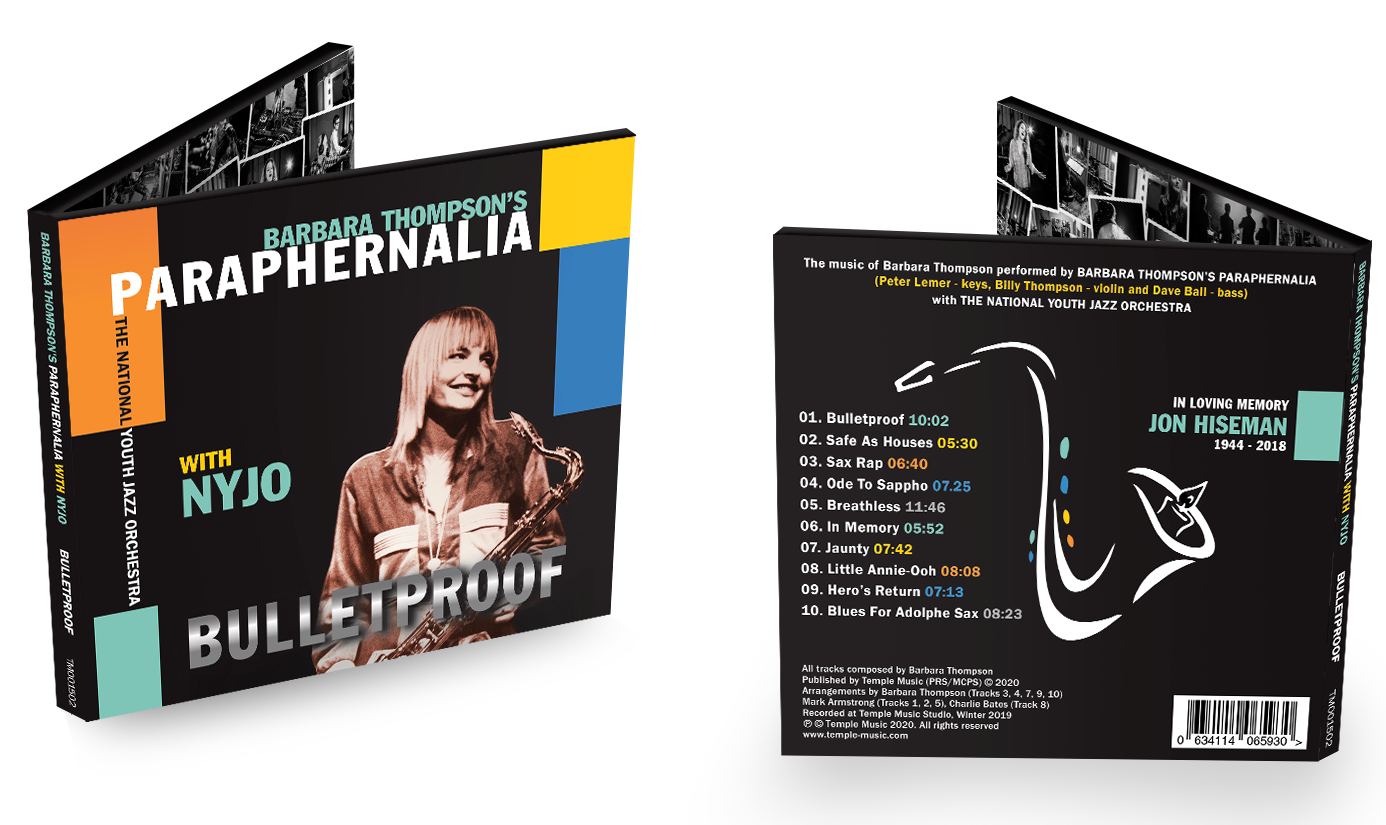 "Barbara Thompson writes and performs for the saxophone like no other. With love and unwavering respect, she cherishes the instrument when needed, challenges and pushes it beyond boundaries and shows us that in the right hands, the saxophone really is truly magnificent."
Fiona Ross, Jazz in Europe, 2019
LINKS
"…this music never seems only to appeal to the intellect but is always sincere and aims at the heart…"
"Barbara Thompson has set a standard that only she can live up to."
"Barbara Thompson writes and performs for the saxophone like no other. With love and unwavering respect, she cherishes the instrument when needed, challenges and pushes it beyond boundaries and shows us that in the right hands, the saxophone really is truly magnificent."
"Barbara Thompson is not only a tenor sax specialist; she also has one of the strongest sounds around."

"Barbara Thompson's Paraphernalia…one of the most popular touring bands in Britain, their unique sound has been lauded in the music press. Jazz Warrior Barbara's brilliant performances on saxophone and flute, together with Jon Hiseman's driving percussion and drumming has gained their own jazz cult following."

"Her solo power had strong men spilling their beer as they staggered to their feet to cheer. Indeed one particular song featured some of the finest tenor sax heard in a long time. Her tenor veered between a Getzian beauty and a King Curtis-style funkiness that earned her a standing ovation…"